Europa-Park is hard to get to? Think again!
The new train link from London via Paris straight to Ringsheim / Europa-Park station makes travelling from the UK easier than ever.
It's been a long dream of Europa-Park founder Roland Mack to make travelling to Germany's largest theme park by train easier. With the new TGV stop Ringsheim / Europa-Park, this dream has finally come true. And the best part is, with the Eurostar to Paris and onward travel on the TGV to the final destination only minutes from the Europa-Park Resort, this is now an amazing alternative for travellers from the UK, and especially Greater London.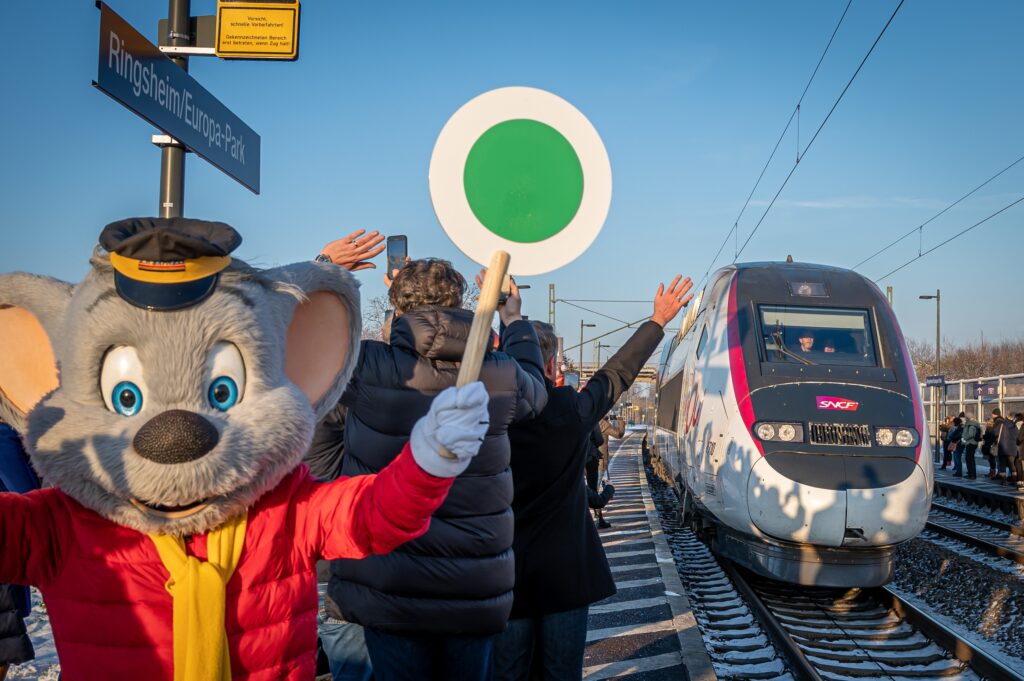 Change in Paris
It's a one change only route, with just enough time in Paris to grab a nice coffee and baguette in one of the many street cafés that line the roads from Gare du Nord to Gare de l'Est. The mere ten-minute walk full of beautiful Parisian architecture and savoir vivre to break up the journey is a cultural experience and feels like a short holiday in itself.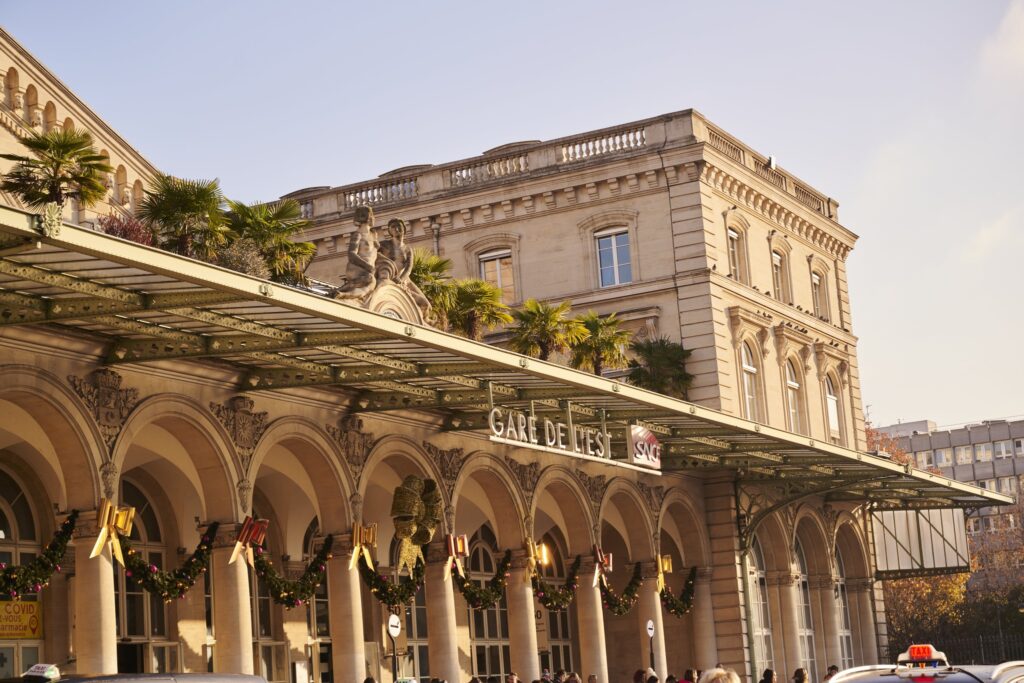 Once on the TGV from Paris to your final destination, Europa-Park, the beautiful landscape swooshes by and makes time disappear. All while your anticipation grows and your thoughts are racing down blue fire. By the way, choosing a seat on the upper deck allows for even more spectacular views along the way.
Just minutes away from the rollercoaster fun
And just like that, you're getting off the train in Ringsheim / Europa-Park. From there, the Europa-Park & Rulantica Bus will take you to the Hotel Resort, the main entrance and many more stops across Rust. So even if you haven't booked a stay in one of the Europa-Park hotels, this travel option might still be for you.
A recent self-test proved that it took less than 7 hours from leaving London to walking through the lobby of hotel 'Colosseo'. Including a break in Paris and without having to worry about rental cars and long airport queues. If you arrive at the airport 1.5 hours prior to your flight, calculate a flight time of about 1 hour and 45 minutes, and then add the time it takes to leave the plane, clear immigrations, collect your luggage, pick up a rental car and drive for one hour to the resort, you'll find that 7 hours probably isn't far off, especially if you have children in tow. So, using the train is a true contender when planning your next trip to Europa-Park!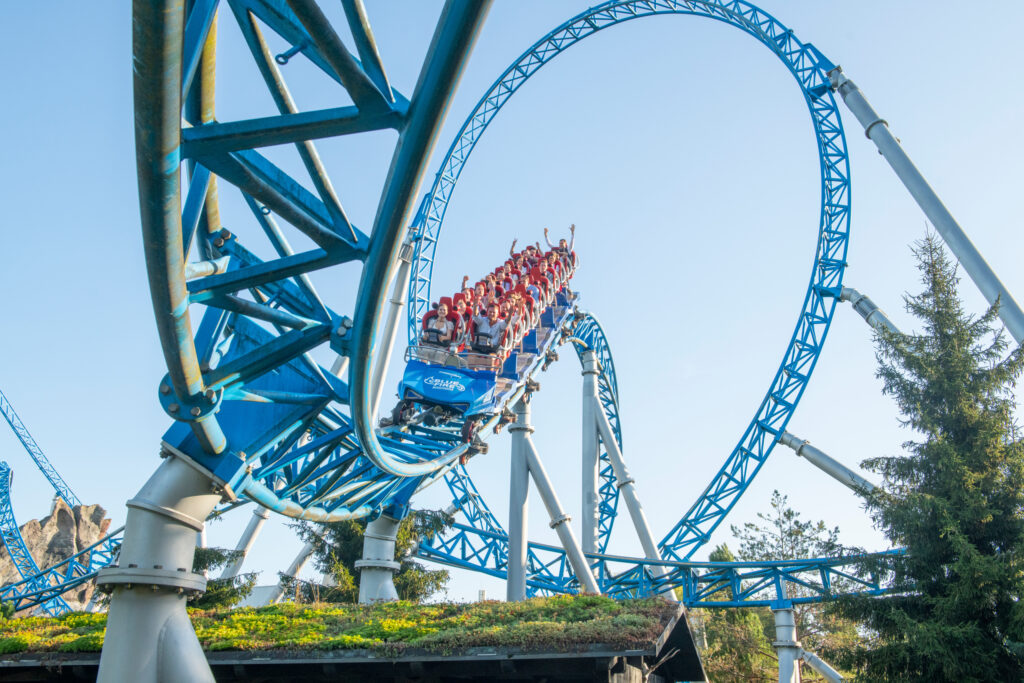 Step-by-step Guide
Here is our step-by-step guide for travelling by train from London to Europa-Park:
Get to St. Pancras station with enough time to clear security checks. In most cases, this only takes a few minutes but can take longer if it's particularly busy. Eurostar recommends arriving 60 to 90 minutes ahead of your departure, which we think is a bit excessive. Note: there are no limits on liquids, and you don't have to pack them all separately either! Just a washbag will do.
Get off the Eurostar in Paris, Gare du Nord. As this is the only stop, there is no risk of missing it. Make your way across to Gare de l'Est, which takes about 10 minutes on foot, with plenty of nice little cafés and boulangeries along the way should you have enough time to stop for a bit.
Board the TGV to Freiburg, get excited and enjoy the beautiful views along the way.
Get off at the stop Ringsheim/Europa-Park. As you leave the platform, you can already see the bus stop on the other side of the small road – including Ed and Snorri waving from a Eurosat car to get you really excited! The Europa-Park & Rulantica bus often coincides with the arrival of the train but check the timetable to be extra sure.
The bus costs €2.50pp one way, or €5 return. It's best to carry some Euros to be able to pay directly with the driver.
After about 10 minutes, you will arrive at Europa-Park, Rulantica or the Hotel Resort. Get off and immerse yourself and your loved ones in the adventure that awaits!
The best place to book your entire journey (London to Ringsheim / Europa-Park) is the website of the French Rail Cooperation, SNCF.